2012 NLP Practitioner MP3s with Rex Sikes and Jonathan Altfeld


NLP Master Trainer Rex Sikes ran IDEA Seminars (1990-2002), and earned a global reputation as being amongst the absolute best trainers.  Rex was known for his uplifting, immersive 14-day events, and for training deeper skills than you could acquire anywhere else.  He's been active in the self growth industry for decades; he trained and worked with Richard Bandler for many years, and was the first trainer alongside Richard licensed to train/certify in DHE™(R.Bandler).  He also consulted for the famous OJ Simpson trial.
Rex hasn't taught a public NLP program since 2002, though he's been training it privately for corporate clients and in his entertainment acts, through Rex Sikes Entertainment and Rex Sikes Productions.  We just couldn't attend public workshops with him.  Our loss!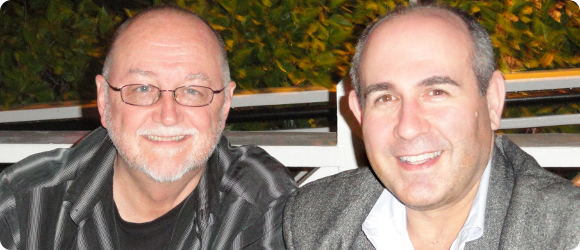 In November 2012, Jonathan convinced Rex to return to the public, and co-train an NLP Practitioner course.  The results were astounding, memorable, and rich!  We're letting you in on the magic!
This page offers topical MP3 sets, meant as useful refreshers for Practitioners, as well as good preparation for future Practitioners.
FYI: These MP3s do contain some adult language. Also, Audio Quality is not perfect, and varies; some clips needed more noise-reduction than others.

FREE PREVIEWS:  Jonathan and Rex recorded 5 hours of teleconferences in advance of their 2012 Practitioner program.  For now, they're available for FREE DOWNLOADING after subscribing to our "Rex Sikes Teleconferences" list, and then we can also keep you informed about future opportunities to learn from Rex and Jonathan together.

PRAC PACK 1:  How to Master NLP More Easily & Naturally (2.5 Hrs) -  Some people spend ages, continuously shooting themselves in the foot, not knowing how to most easily and quickly add skills and new behaviors into their repertoire... that can be the basis of life-long positive change!  Why?  Because they don't understand how easy it is to do. They think struggle is required.  No pain, no gain.  Yet, what if learning and mastering NLP could be fun, easy and faster?  Would you want to know how to make it so?  Would you want your experiences to be more pleasant? Or do you prefer to struggle? Take this opportunity to start learning, in the way your brain is designed to learn... The process is fun and easy to add into your life and will be the gateway for huge changes and mastery!  Jonathan introduces Rex,  Rex's Directed Questions™, the N.O.P.S. Learning model,  Give Yourself a Break!  And "Errol Flynns!"
Buy this Bundle Now!
Sample 1:  Mastering Skills, Becoming a Life-Long Learner, Finding Useful Resources. 3 Minute Sample clip (Rex Sikes)

PRAC PACK 2:  Anchoring for the Everyday NLP Wizard  (2 Hours) - Jonathan & Rex train practical Anchoring skills, in their unique experiential way!  For the first time on audio, Jonathan shares his profound "Pulse/Hold" anchoring acceleration method, and Rex shares how you can effectively systematize your behavior to anchor anyone and everyone consistently!  Rex also discusses the deep value of Precision.  Finally, you get to hear a brilliant exercise that will demonstrate how you can anchor friends sitting next to you, anywhere, anytime! 
Buy this Bundle Now! 
Sample 1:  Jonathan Anchors Yes/No, Rex recommends systematizing behavior!  4.5 Minutes of BOTH Rex & Jonathan.
Sample 2:  Evidence that Anchoring... Works!  2 raucously funny minutes!