NLP Newsletters & Gifts from Jonathan Altfeld

published by
Jonathan
on Thu, 2011-12-08 07:06
Thanks for your interest!  Lets bring the results you seek, closer!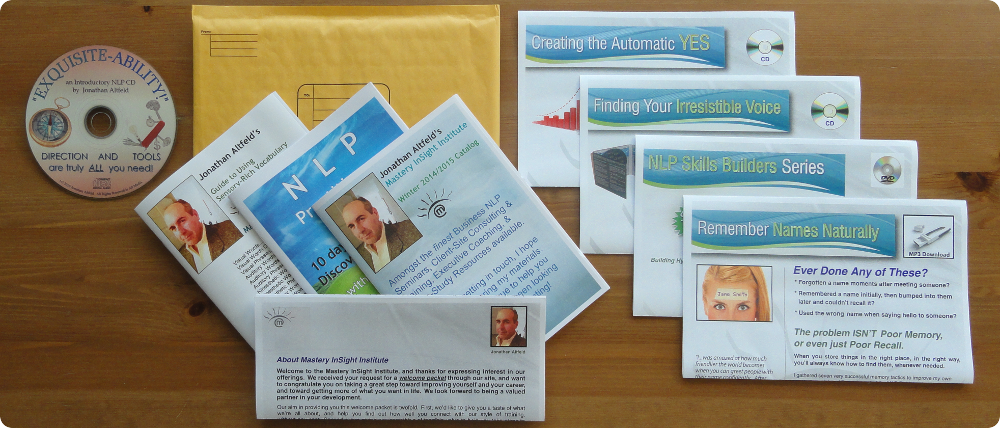 Request your welcome packet with 2 free gifts: a 75-minute intro CD called "Exquisite-Ability", and our popular Sensory-Rich Vocabulary booklet.  These gifts are only sent to complete, verifiable entries (name/address/phone). Incomplete or anonymous requests are ignored.
Iron-Clad Customer Privacy Policy!
Your info is kept private, permanently.  No third parties will ever get your info from us, without your written request.  You can also opt out, at any time.
How We Keep You Informed
We email about blog entries, articles, updates, events, surveys, customer comments, and new home-study resources.  We mail postcards and occasionally call prior to hosting events near you.
Share this Page!
By inviting friends to visit us, you make it more likely that we can visit your location with workshops! Help us grow our tribe of satisfied students and customers!
Offer Restrictions: We do not send to residents of:
India, Malaysia, Indonesia, Philippines, Pakistan, Iran, Iraq, Afghanistan, Nigeria, Egypt, Cote D'Ivoire, & certain others.  If you live in one of these countries, you can purchase a welcome-packet at the low cost of $15, here.
Please note, we do send free welcome packets to most countries around the globe).
NO Yahoo-based email addresses.
Unfortunately, Yahoo blocks email on and off from our (shared) Hostgator server. Do not subscribe with a Yahoo address; we cannot contact you. That will invalidate your form entry.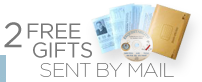 NLP gifts sent by mail:
CD & Sensory-Rich Word-List

Many NLP Practitioners are more sloppy with their thinking patterns, than they'd like to admit, or... would even notice.

Watch NLP Co-Founder Richard Bandler use NLP to eliminate Michael Strahan's phobic response to snakes -- in minutes (with Kelly Ripa bringing over a BIG snake at the end to test Michael's response). Spoiler alert: It worked ridiculously well.

No matter what skill you want to learn, no matter what fears or concerns or hesitation you may have, there are and will always be a wide range of approaches, to learning that skill.  It's important to keep that in mind when making learning choices.

Many more famous people have been trained in Ericksonian (indirect) Hypnosis and NLP than you might guess.  There are certainly far more who have strong interests here than have publically admitted so.  

On January 1, 2015, Jonathan Altfeld and 20 other co-authors released a digital book entitled "Creating Business Growth."

After six and a half great years based in central Pennsylvania, and running many courses in Washingt

What are the Four Stages of Learning?

In today's post, I share how and why an NLP Modeling project could be set up to fail, and what to do instead!

In today's post, I share a sales-closing I think you'll love, and follow that with NLP skills applied to selling, including: Sensory Acuity, Sensory Awareness, Calibration, Using Suggestions to 'plant' thoughts ethically, and other NLP language patterns!

Sales is one of the absolute best applications of NLP. Yet many salespeople well-trained in traditional models haven't taken advantage of this, usually because they're skeptical of whether or not NLP would get in the way of what they're alr
Ted VanderNoot

Cognitrix, London, UK

Attended Course : Belief Craft MP3 Set

"Your presentation of AI & Knowledge Engineering & how computer software systems can learn & decide was quite interesting. But using these models to then explore modelling in the NLP context was mind-blowing! It was really cool how well we were tracking beliefs by only the second day. [...] Not only could we track beliefs & language patterns "on the fly" but we could unravel their interconnections & their interactions conversationally. I thoroughly recommend your course to anyone who wants to improve their skills at tracking language patterns & modelling."

http://www.cognitrix.com/

Jamie Smart

Trainer, Entrepreneur, Salad, Leicester, UK

Attended Course : NLP Skills-Builders (course)

(Written in 1999) Thanks a lot for an excellent course - I learned a lot and was grateful for your openness in explaining the how behind the teaching as well as the course material. I really appreciated the 1-to-1 work, and enjoyed the SoM work immensely (more next time please!). Thanks for an excellent weekend, and I'll look forward to your next trip to the UK. Thanks & regards!

http://www.saladltd.co.uk

Elmer H. "Pete" Young

Criminal Defense Attorney, Augusta, GA

Attended Course : NLP Practitioner Training

I am waaay late in fulfilling my earlier intention of thanking Jonathan for the exciting and enlightening experience of his Practitioner course in February, 2012.
 
I have since attended another and both have literally changed the way I approach, my clients, my trials and indeed, my life!  I would tell every lawyer I know to engage Jonathan to improve their skills, but only if they didn't practice in my jurisdictions!  These skills have enhanced my life, for sure!  Thanks, Jonathan!

http://www.GeorgiaDefense.com

Rosie O'Hara

NLP Trainer, NLP Highland, Edinburgh, Scotlan

Attended Course : Linguistic Wizardry

I thoroughly enjoyed Jonathan's Linguistic Wizardry in November 2006 in Glasgow, Jonathan's humour and at times subtle directness is charming and enables great learning. I experienced these 3 days and his evening sessions both as a participant and sometimes from a trainer's perspective. The courses gave me more insight into myself (which NLP always does!), as well as more info, and exciting and useful NLP to bring to my own trainees, trainers and clients, as well as my own life. Jonathan's voice and careful testing of the waters in respect of humour are also delightful. And I met some great people. He's really worth the money, go for it, enjoy it and learn.

http://www.nlphighland.co.uk

Silke Scheidereiter

Germany

Attended Course :

Thanks for a wonderful & mind altering weekend - it was worth every single penny! [...] my brain just can't stop generating new ideas & solutions, identifying patterns, going through the huge pile of new information. [...] I still don't have a clue as to how you managed to get that much data into these few inches of my brain in such a short time!!! NLP seems to be much more effective & powerful than I ever dared to dream of.....

Mayra Rivera

Attorney, Miami, FL

Attended Course : NLP Practitioner Training

I recommend Jonathan's NLP Course to anyone who is interested in dramatically improving his or her rapport and communication skills. I am very impressed with Jonathan's quick and practical approach to the questions posed by his students. I have accepted the challenge to continue practicing these skills in the future, and strive to achieve Jonathan's elegance and mastery.

Silke Scheidereiter

Germany

Attended Course : Knowledge Engineering

Thanks again for a wonderful & mind altering weekend; it was worth every single penny! I'm just after getting back to Germany & my brain just can't stop generating new ideas & solutions, identifying patterns, going through the huge pile of new information! I think the drive from the UK to Germany never seemed that short & productive before. I still don't have a clue as to how you managed to get that much data into these few inches of my brain in such a short time! NLP seems to be much more effective & powerful than I ever dared to dream of. You're a brilliant trainer & I'm glad to have had you as my "personal introduction" to NLP & Knowledge Engineering. Thinking back I can still feel the excitement of learning (& I still DO...) & the warm welcome I got from you & the group. Being relatively new to the whole field of NLP that means a LOT...at least to me! Thanks a million & I hope to see you again in the future. Maybe for another training!

G.A.

Sydney, Australia

Bought Audio : Finding Your Irresistible Voice

After reviewing your CDs I started realising how applicable it was in creating a new improved voice range. I realised that with very little effort people were listening attentively to me, even in crowded places and in places where machinery is constantly running. My workmates noticed it too, dropping comments as to how 'agreeable' it was to listen to my opinions, and how much more rapport was noticeable! My new girlfriend also refers to my voice as to one of my good qualities, which -- in combination with my other NLP techniques -- makes for my voice a seductive weapon of choice. I am recommending it to my friends. Thanks!

Crystal Spring

NLP Practitioner & Reiki Master,

Attended Course : NLP Practitioner Training

Once again Jonathan has completed a training and brought us all to a beautiful crescendo, ascension of skills, clarity, and directed us in reframing the hovering hesitant past to a powerful present which is future-paced and has maximal integration. Thank you Jonathan.

Aaron Spurling

NLP Master Practitioner, Indianapolis, IN

Attended Course : NLP Master Practitioner

One of the things people interested in NLP often wonder about is where they can get high quality training. I did my Master Practitioner training with Jonathan Altfeld and Doug O'Brien, and in my opinion they are two of the very best trainers out there today. Both Jonathan and Doug have vast knowledge and experience in NLP, and they are both gifted teachers. Furthermore, Jonathan's unique Knowledge Engineering" approach to modeling, together with Doug's mastery of "Sleight of Mouth" and Ericksonian hypnosis, make for an incredibly powerful combination that is not being taught literally anywhere else. I recommend that anyone who wants to take their NLP skills to truly world class levels should sign up for Jonathan and Doug's training immediately!