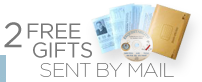 NLP gifts sent by mail:
CD & Sensory-Rich Word-List

After six and a half great years based in central Pennsylvania, and running many courses in Washingt

What are the Four Stages of Learning?

In today's post, I share how and why an NLP Modeling project could be set up to fail, and what to do instead!

In today's post, I share a sales-closing I think you'll love, and follow that with NLP skills applied to selling, including: Sensory Acuity, Sensory Awareness, Calibration, Using Suggestions to 'plant' thoughts ethically, and other NLP language patterns!

Sales is one of the absolute best applications of NLP. Yet many salespeople well-trained in traditional models haven't taken advantage of this, usually because they're skeptical of whether or not NLP would get in the way of what they're alr

Do your emotions drive you? Or do you drive your emotions?

NLP has enabled people just like you to discover that actively building, deepening, and maintaining Rapport creates stronger and more desirable results in communication settings of any kind.

NLP Insights from Animal-Training helps you learn and teach more effectively!

Relax; we're not talking about getting brain implants or strapping you into a big computer.

All of us have, at one time or another, attempted to influence another person, to no avail.  It's a universal experience to walk head-first into unresponsive stubbornness.
Matthew Newnham

Change Management Consultant, Edinburgh, UK

Attended Course :

From my perspective, context and meaning are, if not everything, a very big slice of the cake. Jonathan Altfeld's 'Knowledge Engineering' has provided me with the tools and understanding to create contextual maps of any problem, with cause, effect AND meaning. This approach is very powerful, and allowed me to create breakthrough strategies immediately, with clarity and certainty of purpose. Beyond this, Jonathan is exceptionally wise and articulate about NLP and how to use it to effect meaningful, lasting change. He is also very approachable and generous, and a pleasure to work with.

Rosie O'Hara

NLP Trainer, NLP Highland, Edinburgh, Scotlan

Attended Course : Linguistic Wizardry

I thoroughly enjoyed Jonathan's Linguistic Wizardry in November 2006 in Glasgow, Jonathan's humour and at times subtle directness is charming and enables great learning. I experienced these 3 days and his evening sessions both as a participant and sometimes from a trainer's perspective. The courses gave me more insight into myself (which NLP always does!), as well as more info, and exciting and useful NLP to bring to my own trainees, trainers and clients, as well as my own life. Jonathan's voice and careful testing of the waters in respect of humour are also delightful. And I met some great people. He's really worth the money, go for it, enjoy it and learn.

http://www.nlphighland.co.uk

Mayra Rivera

Attorney, Miami, FL

Attended Course : NLP Practitioner Training

I recommend Jonathan's NLP Course to anyone who is interested in dramatically improving his or her rapport and communication skills. I am very impressed with Jonathan's quick and practical approach to the questions posed by his students. I have accepted the challenge to continue practicing these skills in the future, and strive to achieve Jonathan's elegance and mastery.

Andy Smith

Trainer of NLP & Appreciative Inquiry, Coaching Leaders, France

Bought Audio : Metaphor Machine CDs

Jonathan Altfeld has done a first-class job of clarifying what makes a successful metaphor, and how to generate as many as you need. This CD set has given me a much better conscious understanding of how to use metaphor, and has changed the I way I teach metaphor use on my NLP Practitioner and Master Practitioner courses. Also, to my knowledge, this material is more advanced than anything else available on metaphor construction.

http://www.coachingleaders.co.uk/

R.B.

Management Consultant, Michigan

Attended Course : Flirtopia DVD-set

What I got from my first two hours after Flirtopia: I sat next to a flight attendant on the way back home, & had tremendous fun chatting with her with just one outcome in mind - I wanted her to feel really good! I found myself really enjoying using what I had learned over the weekend, & I could tell that she was getting a LOT of energy out of it - even though I established early in the conversation that we were both married, just to be safe (hanky-panky is a kind of pollution I could live without right now). It was a great conversation that made me feel really connected with a person I wouldn't ordinarily talk to, but the great part happened as we were getting off the plane. She reached in her bag & took out her book of frequent flyer coupons (the kind they give passengers when they want to appease them) she had, & very generously gave them to me - every single one. I was blown away! So I got at least 25,000 frequent flier miles out of my first two hours after the training - & I made this woman very happy in the bargain! What a hoot! I wanted you to know that I really enjoyed the company of the instructors & assistants. They were all tremendous, & really added a lot to the learning. As I left the hotel Sunday evening, I thought to myself that these are the kind of people I really enjoy having in my life. Generous, helpful, skilled & fun-loving are words that come to my mind to describe the members of your team.

Andrew Joy

Principal French Horn, Cologne Radio Orchestra, Cologne, Germany

Bought Audio : Finding Your Irresistible Voice

Your CDs arrived safe and sound. I've listened to the first two and worked on the exercises. I'm a 55 year young, professional principal french horn player and have been working in a top German symphony orchestra for the past 30 years. I listened to the bonus telephone interview today. I am blown away. The results, applying your voice exercises to my playing (and to my students) are phenomenal. Resonance plays a huge role in performing on a brass instrument and very few poeple understand much about it. I've picked up useful and practical information, from singers and voice coaches, that I've been able to adapt to brass playing. Explaining resonance is now easy using your nose, mouth, throat etc, approach. The killer though, is using double resonance. I have free at present and don't have to perform in the orchestra (and the hall) until the beginning of Febuary. However, I am itching to hear how my changed sound is in our hall. It has to be amazing. Your material has added wonderfully valuable understandings to my comprehension of what constitutes excellent quality brass player and has beautifully simplified my means of effectively communicating it to my students. There has been a lot of belly laughter, stunned ears and broad smiles in my teaching studio this week. I'm teaching a course to amateur wind and brass players next year and am looking forward to applying your teachings to this particular situation for the benefit of the people attending. Thanks a million. This is one of the few times in my life where I've been gladly reeling and with a huge smile on my face.

http://www.andrewjoy.com

Marcus Inoue

San Diego, CA

Bought Audio : Finding Your Irresistible Voice

  Jonathan Altfeld speaks the pleasant truth with his "Finding Your Irresistible Voice" CD set. To my enjoyment, the exercises have improved the quality of my voice. I practiced the techniques that I learned from Jonathan on my brother. In the past, it was difficult to keep his attention due to my monotone voice, but recently when I spoke with my brother, I had his complete attention.

Tom O'Connor

Network Consultant & NLP Modeler, London, UK

Attended Course : Belief Craft MP3 Set

"Belief Craft is an exceptional course that has massively improved my modeling and change [-work] abilities. I would highly recommend it to anyone who wants to take their NLP and change skills to a new level."

http://nlptimes.com/

Linda Nurse-Thompson

London, UK

Attended Course : Linguistic Wizardry

For me the true value of a course becomes apparent after the session itself. How many times have you been to a training course where you heard some interesting things, promised you would apply them and then found that after a couple of months - despite all your best intentions - most of those great things you had heard were forgotten? Well, this is a course that has made a difference to my every day life. My skill at communication (both listening and sharing) has greatly increased and the fantastic thing is that as a result of this course I am still learning new things every day! So what is different versus other courses? Well firstly Jonathan managed to find a way to make the content of the course really meaningful for me (and the interesting thing is he found a way to achieve this for each one of the course delegates without losing out on the overall aims of the course), and secondly the course provided a number of tools that facilitates ongoing exploration and learning. One example, my brother had a presentation to do and after he shared some of his planned content my husband and I made a number of suggestions and observations based in our learning from the course with Jonathan. My brother asked how we could be so insightful. We explained and immediately my brother decided to sign up for the course.

Kay Pentacost

Database Solutions Developer,

Attended Course : NLP Practitioner Training

For twelve amazing days in April and May the group of us learned about NLP through explanation, exercises, and trance (my favorite part). It's been 5 months since I started the NLP Practioner Training. The first effects I noticed after the training was how much easier it was to read my NLP books. The second effect was an ability to easily control my states, most of the time, and the knowledge that I could anytime I wanted to. The most frequent comment I got from others was something like... "you seem different... I don't know, lighter somehow." I take it as a compliment! My life has changed a lot. Some of the ways are very subtle: a sense of comfort, a feeling of attractiveness, more positive responses from other people. I get more done at work because my focus is better; when I'm not focusing, I use NLP to start and increase my focus. I have more fun when I'm not working (and really, more fun working). And in some ways things seem completely different. I can't explain exactly how, but the world is brighter and sparkly. You'll know what I mean, I think, if you've had a practitioner course; you'll find out when you take one, if you haven't yet. I think it's the best thing I ever did for myself... so far.