Free NLP Resources
Free NLP Resources
We're happy to share these extensive resources for your NLP home-study efforts!
We'll be adding more resources to this page as time goes by, so plan to return periodically!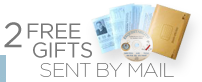 NLP gifts sent by mail:
CD & Sensory-Rich Word-List

You're a diamond! One of nature's greatest creations. Already gifted, already beautiful.

Goodbye 2012, and hello 2013!  That time has come again to ritually cap a year gone by... and, perhaps more intentionally, choose how you want your next year to go.

Are you self-aware enough to know that every single judgement call you make, prevents you from learning, or diminishes how much you can learn?

Have you ever felt like you were absorbing lots of information effectively, and then... when called upon to recall that information later... drew a blank?

In today's entry, I'll start sharing examples of effective NLP techniques used in presentations.  TED is an organization that hosts extraordinary conferences wherein extraordinary people give short presentations about amazing ideas & results, in the worlds of art, science, music, performance,

Recently during a Practitioner training, my students were learning about time distortion, both as an experience, and for the purposes of learning time distortion effects and language patterns. 

This is a temporary blog entry -- just to say welcome!  The content on this site has been 14 years in the making, but our new design (unveiled Jan 4 2012), will enable easier access to the wide range of resources and opportunities you'll find here.  I hope you enjoy and find value in returning wi

I received an inquiry via my site, asking for help with Stuttering:

This blog entry was one that was moved from my old NLP Forum. Mike DeBusk had asked:

Too many Speakers violate how their audience members think about the past vs. the future. Public Speaking pitfall: Most speakers I watch (even on youtube) keep getting their "time" references completely wrong for audiences.
Anand Rao

London, UK

Attended Course : Belief Craft Seminar

"I thoroughly enjoyed the training which has helped me to fill in a tremendously powerful area of skill in NLP, that I had previously avoided by thinking it was going to take too much effort to learn. Combining [SoM] with KE gives a context in which to precisely use language patterns."

John Bailey

Gemstone Artist , Gemstone Artist, Oregon

Bought Audio : Automatic Yes CD-set

The material was very well presented, with good introduction and solid setups. I particularly appreciated the easy-going style and the overall feel of the material. The admonitions to actually PRACTICE, and the structured-in opportunities to do so, are really good, too. I would recommend this program for anyone who wants to learn the fundamentals of state-chaining, whether for basic sales or for therapeutic purposes. I found a significant value in your personal style and take that was very useful in my present project writing on the subject of state chains and patterns in my upcoming book.

http://www.gemstoneartist.com

Steve Boyley

NLP Trainer, Vancouver, BC

Attended Course : Linguistic Wizardry

In 8 days I get to know the delegates who attend my NLP Training seminars. I find out how much they have learned from previous seminars they have attended, by direct observation of the skill they demonstrate, as well as through direct inquire into their perceptions of previous training experiences. I regularly hear positive commentary about Jonathan's Linguistic Wizardry seminars. The confidence and proficiency with the skills Jonathan has taught them, is plainly evident. In addition, people I have trained have subsequently attended Jonathan's Linguistic Wizardry seminar and provided me with very positive feedback on their experiences with Jonathan.

http://www.nlpmind.com

Claudio Sennhauser

Demo Coach and Author of "Giving Memorable Product Demos", Thailand

Bought Audio : Finding Your Irresistible Voice

Your 'Finding Your Irresistible Voice' 2-CD set [...] really gives me the tools & knowledge to IMPROVE my voice... no matter what level. Just learning about how to develop a dual-tone voice is worth the money for the whole set! I especially like your dynamic presentation of the material - your good mood really comes through.... A definite must in the library of any NLP student!

http://sennhauser.com/

Aaron Spurling

NLP Master Practitioner, Indianapolis, IN

Attended Course : NLP Master Practitioner

One of the things people interested in NLP often wonder about is where they can get high quality training. I did my Master Practitioner training with Jonathan Altfeld and Doug O'Brien, and in my opinion they are two of the very best trainers out there today. Both Jonathan and Doug have vast knowledge and experience in NLP, and they are both gifted teachers. Furthermore, Jonathan's unique Knowledge Engineering" approach to modeling, together with Doug's mastery of "Sleight of Mouth" and Ericksonian hypnosis, make for an incredibly powerful combination that is not being taught literally anywhere else. I recommend that anyone who wants to take their NLP skills to truly world class levels should sign up for Jonathan and Doug's training immediately!

Andy Preston

Sales Trainer, Outstanding Results, Manchester & London

Attended Course : Speaking Ingeniously

As someone who already has public speaking and training experience, I had been looking for a course that would help me further develop my skills for a long time. Most courses either only cater for the absolute beginner, or focus on the less important aspects of speaking - where to hold your hands, how to use Powerpoint for example. Jonathan Altfeld's Speaking Ingeniously course however is different. Right from day 1, I realised I was in for something special. The massive growth both myself and other attendees experienced in our speaking skills would be hard to believe if we didn't have the DVD evidence! Jonathan's ability to train a mixed ability group is unrivaled, and on this course there were already-confident public speakers like myself, right down to people who had never spoken in public before, and even one who had a fear of public speaking! The way Jonathan trains means that everyone, regardless of their current skill level, gets massive benefits from his courses. He has mastered the hard-to-master art of training different skill levels at one time, without anyone feeling he's going too fast or too slow and it's the most effortless learning I've experienced (and among the most powerful). Who would I recommend this course to? Anyone that wants to improve their speaking skills - whether they want to speak in public or just improve their position at work (and believe me, you'll be able to negotiate more money after this course!). In my opinion, this is THE best course on speaking skills, and having researched lots of courses before I chose this one, I can guarantee you won't find the majority of this material (or have this sort of experience) anywhere else. If you want a 10 out of 10 experience, I wholeheartedly recommend Jonathan Altfeld and this course over any other.

http://www.outstanding-results.co.uk/

Zach Poitra

Entrepreneur, Portland, OR

Attended Course : "Irresistible Voice"seminar

Jonathan Altfeld is filling a much needed niche in the NLP community - training and developing the use of voice control. It is very well recognized and documented that voice control is a key element when inducing trance, persuasion, and building rapport yet Jonathan is the only trainer that offers workshops on the subject. If your voice has been a source of frustration for you, then I definitely recommend that you purchase his Irresistable Voice CDs and/or attend one of his workshops. All of Jonathan's seminars are well structured, individualized, and pragmatic. It is extremely easy and fun to learn from Jonathan.

Linda Nurse-Thompson

London, UK

Attended Course : Linguistic Wizardry

For me the true value of a course becomes apparent after the session itself. How many times have you been to a training course where you heard some interesting things, promised you would apply them and then found that after a couple of months - despite all your best intentions - most of those great things you had heard were forgotten? Well, this is a course that has made a difference to my every day life. My skill at communication (both listening and sharing) has greatly increased and the fantastic thing is that as a result of this course I am still learning new things every day! So what is different versus other courses? Well firstly Jonathan managed to find a way to make the content of the course really meaningful for me (and the interesting thing is he found a way to achieve this for each one of the course delegates without losing out on the overall aims of the course), and secondly the course provided a number of tools that facilitates ongoing exploration and learning. One example, my brother had a presentation to do and after he shared some of his planned content my husband and I made a number of suggestions and observations based in our learning from the course with Jonathan. My brother asked how we could be so insightful. We explained and immediately my brother decided to sign up for the course.

Ustahi

Kosovo

Bought Audio : Knowledge Engineering

My life is really getting even more interesting, just now I finished listening one more piece of puzzle I've been missing - how to track beliefs. My belief about beliefs is that they're life itself. So why not learn everything about them? If you want a precise model of how to do it and get to know people's circuits then Knowledge Engineering is the course to study and put in immediate use. I'm soon going to become Telecoms/Computers engineer and Jonathans experience as AI expert really got me in a new world of possibilites. I'm thinking about how to use it in all the directions in my life. As a guaranteed side benefit from the course is also opening your ears and listening to what people tell you. I'm really finding this a true must skill one should have. I'd like to thank Jonathan for his way of putting the model and for his genuine interest in his customers.

Jim Black

Philadelphia, PA

Attended Course : Belief Craft MP3 Set

Out of the many seminars and trainings I've participated in over the years, Belief Craft tops them all. If you make the decision to take this course, you'll not only get everything you wanted, but also things you never imagined."