Free NLP Resources
Free NLP Resources
We're happy to share these extensive resources for your NLP home-study efforts!
We'll be adding more resources to this page as time goes by, so plan to return periodically!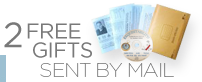 NLP gifts sent by mail:
CD & Sensory-Rich Word-List

You're a diamond! One of nature's greatest creations. Already gifted, already beautiful.

Goodbye 2012, and hello 2013!  That time has come again to ritually cap a year gone by... and, perhaps more intentionally, choose how you want your next year to go.

Are you self-aware enough to know that every single judgement call you make, prevents you from learning, or diminishes how much you can learn?

Have you ever felt like you were absorbing lots of information effectively, and then... when called upon to recall that information later... drew a blank?

In today's entry, I'll start sharing examples of effective NLP techniques used in presentations.  TED is an organization that hosts extraordinary conferences wherein extraordinary people give short presentations about amazing ideas & results, in the worlds of art, science, music, performance,

Recently during a Practitioner training, my students were learning about time distortion, both as an experience, and for the purposes of learning time distortion effects and language patterns. 

This is a temporary blog entry -- just to say welcome!  The content on this site has been 14 years in the making, but our new design (unveiled Jan 4 2012), will enable easier access to the wide range of resources and opportunities you'll find here.  I hope you enjoy and find value in returning wi

I received an inquiry via my site, asking for help with Stuttering:

This blog entry was one that was moved from my old NLP Forum. Mike DeBusk had asked:

Too many Speakers violate how their audience members think about the past vs. the future. Public Speaking pitfall: Most speakers I watch (even on youtube) keep getting their "time" references completely wrong for audiences.
Paul Sims

Personal and Business Coach, Nottingham, UK

Bought Audio : Finding Your Irresistible Voice

So, an 'irresistible voice,' hey? Sounds good, and so will your voice, if you listen to, and more importantly, do the exercises on this set. Over the course of the CD's Jonathan Altfeld takes the listener through a series of precise, progressive exercises, focusing on various aspects of the human voice from how to use your mouth, tone, rhythm, using tonality, and how to use breathing effectively when speaking. Simple exercises, powerful results. It's a great set, and I found that by using the CD's and practising with the exercises, I was able to generate a voice that not only sounded nice, it felt nice as well. Not only do I sound more melodious, more rhythmic, and that people seem to want to listen to me more, but I'm more aware of a different internal state. By focusing on developing my voice, I have become aware of a more persuasive state, where there's less mental chatter and more eloquent, persuasive verbal delivery. By concentrating on developing the physiology of an irresistible voice, you can also develop a state of powerful persuasion, which is a very big bonus!

Peter Freeth

London, UK

Attended Course : Belief Craft MP3 Set

Less than 5 hours after the end of Jonathan's KE course in London I'm visualising extensive and complex belief systems hidden within language - and keeping up a 'full time' conversation at the same time. Why is this useful? In the past I may have gotten to a strategy and thought 'I'm done' whereas now I hear and see the whole complex structure. Key decision points and` behaviours are emerging which are many times more complete, powerful and elegant than anything I would have arrived at previously through standard 'strategy elicitation'. Before today, I knew people who I thought were complex, now I know that they're no more complex than anyone else, they just hide their beliefs better. This means that I know that I can now choose to work with everybody rather than just the 'easy people'. I am now creating subtle and elegant interventions without thinking about it and I know how much that is going to benefit me more and more over time. And I had a great time too!

Rosie O'Hara

NLP Trainer, NLP Highland, Edinburgh, Scotlan

Attended Course : Linguistic Wizardry

I thoroughly enjoyed Jonathan's Linguistic Wizardry in November 2006 in Glasgow, Jonathan's humour and at times subtle directness is charming and enables great learning. I experienced these 3 days and his evening sessions both as a participant and sometimes from a trainer's perspective. The courses gave me more insight into myself (which NLP always does!), as well as more info, and exciting and useful NLP to bring to my own trainees, trainers and clients, as well as my own life. Jonathan's voice and careful testing of the waters in respect of humour are also delightful. And I met some great people. He's really worth the money, go for it, enjoy it and learn.

http://www.nlphighland.co.uk

Simon Applebaum

Harmonix Systems, Southampton, UK

Attended Course : Finding Your Irresistible Voice

I learned loads and increased my confidence in my own voice massively. The course kicked off with an opportunity for everyone to speak to the group and we got immediate feedback on our vocal strengths and areas for improvement. The feedback was insightful and effective - even at this very early stage of the course, we were all achieving quite serious improvements. A key aspect of Jonathan's approach is the use of real-time feedback and he uses several tools to do this. The theory is that normally you don't actually hear your own voice quite as other people do - the sound changes as it travels through the bones and tissues of your own head! By using feedback, you hear a more accurate version of your own voice, as other people hear it, and you can make adjustments on the fly in response to it. This worked for me. Although I'd previously done voice work, this was the first time I'd used this approach. I found I could focus on the actual sound of my voice, as I spoke. I sounded better which increased my confidence, helping me slow down my usual rush to get finished. Overall I found the course great fun, I learnt loads and the time passed in a flash. I particularly appreciated the lighter hearted sections at the end of the day's training where Jonathan demonstrated his voice impersonation skills. Ranging from Stallone and Arnie, through to Marge Simpson, we were all encouraged to join in and explore the range of our own voices. Fun and with a very serious purpose: each accent we practiced exercised particular parameters of our voice. Because I attended the beginning and end of the course, I missed out a big chunk in the middle including any gradual improvements the other attendees were making in their voice. So for me, on my return on the final day, I noticed quite dramatic improvements compared with the initial session. Straw polls frequently show that many people lack confidence in their voice. If you consider your voice to be one of your key assets, Finding Your Irresistible Voice is a valuable and effective learning experience, where you could expect to make fantastic improvements, in a fun and supportive environment, that boosts your confidence.

Mark Henry

Certified Hypnotherapist, Baton Rouge, LA

Bought Video : "Building Hypnotic Rapport"

Jonathan's skill builders DVDs are incredible. Learn about building hypnotic rapport by pacing and leading others breathing patterns. I synchronized my breathing with several attractive women at coffee shops and malls in the last month. Each turned their bodies toward me while I sat across a room. They gazed at me for several seconds. I felt that I connected with them on an unconscious level. I later spoke with them and were amazed at their friendliness to a complete stranger.

Paul Bielby

Cruise Ship Art Auctioneer, Ontario, Canada

Attended Course : Speaking Ingeniously

"I am an art auctioneer. Before I took Jonathan's course in May 2005, I was making pretty good money, but right afterwards, my monthly income literally doubled! To me that makes what I spent taking the course a bargain in the extreme. I only wish I'd known about it [earlier]!"

Jerleen Nearhood

Carrollton, TX

Attended Course : Persuasion Summit

High level training of persuasion with a class attendance of well-informed students that made the experience awesome. The trainer combination was unsurpassed with the best in the field of persuasion and communication.

Jorge A. Colon

Attorney, Miami, FL

Attended Course : NLP Practitioner Training

Jonathan Altfeld is truly dedicated to each of his students' growth and effectiveness. His integrity, patience, and kindness are a good model for trainers, managers, and parents.

Richard Campo

Project Manager, London, UK

Attended Course : Belief Craft MP3 Set

 "KE is pure Dynamite and when used with [SoM], the combination is explosive! The tools compliment each other so well, you'll find you can not only smash a nut with a hammer but also finely craft and cut and piece back together an issue or problem with the finesse of a skilled craftsman."

Michael DeBusk

NLP Master Practitioner, Maryland

Attended Course : NLP Skills-Builders (course)

Jonathan, I absolutely loved spending the weekend training with you in DC. As a Licensed Master Practitioner, I was delighted to find myself learning new ways to further refine my skills and discovering new parts of my brain. That fingertip exercise you demonstrated--the one that increases interhemispherical communication in the brain--I use it daily and am impressed with the results. And I'm noticing that I have an even greater ability with language patterns. My favorite part of the weekend, though, was watching the personal transformations made by other members of the class, specifically the skeptics. These folks went from "show me" to "show me more!" in an incredibly short period of time. You've helped them begin the process of dramatically improving their lives, and it was an honor to observe and take part in it. Thanks, too, for spending extra time with the class... running longer than scheduled so you could share "just one more cool thing" with us, even having meals with us "out in the real world." We all got much more than we paid for. I'm very glad I trained with you and Mastery InSight, and I'll very likely do so again in the future. Thanks again.

http://nlphilia.net/