Rex Sikes & Jonathan Altfeld - 2013 Evening Event Tour

If you'd like to
"Become a Super-Learner, and Adopt the Fast-Track to Excellence in ANY Pursuit..."
If you're anywhere near NYC, or Washington DC...
Here's a Rare Chance to catch one of the ONLY public Evening Events that NLP Master Trainer Rex Sikes has trained in a Decade!  (Watch a Video Clip below, from our recent L.A. event!)
Get
$60-90 in Bonus MP3s (free)

, as our thanks for joining us!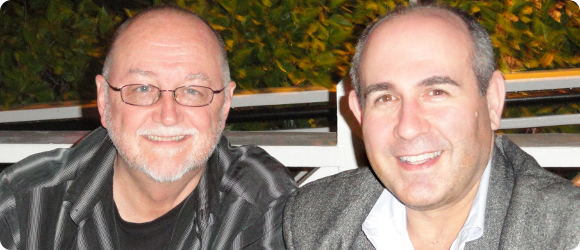 We're going to cover:
Why affirmations don't usually work well for most people, and 

what to do instead of affirmations to gain far better results! 

Bust Up Some Hypnotic Learning and Motivational Myths...
Correct Misconceptions about Acquisition and Retention of Information vs. Skills
Challenge Assumptions About Accelerated Learning...
Confirm some Facts and Implications...
Help you Get to Know Yourself Better, and make Better Choices!
& More!
In short, in one evening, anyone wanting to become a more gifted learner and modeler of excellence -- in any domain -- will start letting go of some bad habits, and start creating more desirable habits to help move you in the right direction!
And, at least as valuable, you're going to get the first opportunity in about a decade, to spend an amazing evening with an extraordinary NLP Master Trainer, Rex Sikes, who stopped publically training NLP in 2002, while the field continued to dilute its offerings for marketing purposes. Yes, the field is full of people continuing to shorten their courses to compete for scarce students, but Rex was known for setting the bar higher than most trainers ever reached. After more than a decade, Rex agreed to join NLP Trainer Jonathan Altfeld for a range of public workshops. These evenings, in particular, are an unprecedented opportunity to experience a gifted man do one of the things he does best -- lift all of us higher towards our own outrageous potential!
Don't miss out! You'll be kicking yourself afterwards if you do!
Here are some of the topics we'll present on and explore:
Why affirmations don't usually work well for most people, and 

what to do instead of affirmations to gain far better results! 

Why babies learn SO fast, and 

how we as adults can revisit our natural super-learning ability 

Why the Endorphin Rush of Motivational seminars & firewalks don't initiate and lead to long-term permanent changes (for MOST people -- certainly they work a charm for a minority)! And, 

what's a more enjoyable and maintainable route to greater excellence & success? 

The promise of NLP Modeling, and how and why it's been misunderstood and distorted into some magic bullet no one seems to be able to do well, and what NLP Modeling is extraordinarily good for, and  

what NLP Modeling truly CAN help you achieve, develop, become, have more of, etc. All the facts, and zero hype!  

& More!
Enjoy this video clip from Super Learning in L.A.!
Here's a bit more about your host, and your trainer for this evening :
2 Passionate & Dedicated NLP Trainers