NLP Skills-Builders Series: Unbridled Motivation 2-DVD-set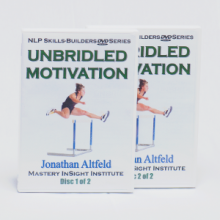 This 2.5 hour DVD-set provides a wealth of different NLP techniques for motivating yourself and others. Learn how to use mental chunking patterns to fire yourself up (much like in the way Tony Robbins often does), use anchoring, submodalities, language patterns, and propulsion systems to create unstoppable motivation. Just try to hold yourself back after using these techniques!!!
For more extensive, detailed information on this 2.5 hour DVD program, visit our Full Detailed Product Page for the NLP Skills-Builders DVD Series. When you click on the above link, another page will open, but this page in the shopping cart will also remain open. Feel free to order through this page once you've read our detailed product page and you're convinced this product will be of immense value to you!