NLP Skills-Builders Series: Building Hypnotic Rapport 2-DVD-set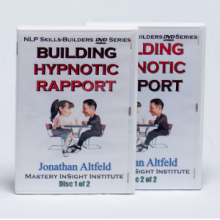 Join Jonathan Altfeld for 3+ hours of beautifully edited video material on building & maintaining profound levels of rapport -- with ANYONE, ANYWHERE. Jonathan covers verbal rapport, paraverbal rapport, and nonverbal (visual) rapport as well. Learn principles (as well as Jonathan's unique insights on) principles such as Pacing & Leading for gaining rapport for influence settings.
Unlike in many NLP videos -- you'll watch the camera follow Jonathan as he constructs Rapport exercise drills, going from group to group with varying instructions. This is an extraordinarily good first product for any NLP enthusiast, as well as highly useful review for more experienced NLP'ers.
For more extensive, detailed information on this 3.5 hour DVD program, visit our Full Detailed Product Page for the NLP Skills-Builders DVD Series.
When you click on the above link, another page will open, but this page in the shopping cart will also remain open. Feel free to order through this page once you've read our detailed product page and you're convinced this product will be of immense value to you!