Rex & Jonathan Prac-Pack 2 - Anchoring for the Everyday NLP Wizard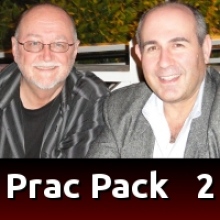 PRAC PACK 2: Anchoring for the Everyday NLP Wizard (2 Hours)
Jonathan and Rex masterfully share their wisdom and experience on how anchors work in the real world, emphasize the value of becoming more precise, and systematizing your behavior, so that you learn to anchor everyone in similar ways -- for real-world situations. Anchoring isn't just for therapeutic gain!
If you'd like to learn more about this Prac-Pack AND other Prac-Packs from this course, click here! In particular, you'll ADORE the exercise on anchoring comedic experiences for other people, covertly -- and the outrageous, unbelievable results achieved from that exercise!
2 hours of All-New Content!  Wonderful material, audio quality is very audible but does include a slight hum from noise reduction.