Own the Interview, MP3-set (downloadable MP3s, NOT shipped CDs)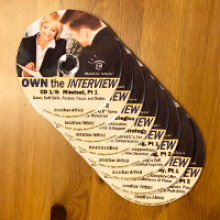 Announcing our newest 8-CD-set / MP3-set audio program "Own the Interview!" Just released as an MP3-Set (CD-set release is coming soon).
 
This is Jonathan Altfeld's new cutting edge material applying NLP to Acing Business Interviews, providing 6+ hours of proven interview coaching material.
 
This page is for ordering the MP3-Set downloadable version. No shipping fee, but also no physical shipped product. Click here to order the physical shipped CD-set version instead.
 
For more detailed information about this NLP audio program, visit our "Own the Interview" audio program page.  When you click on this link, another page will open, but this page in the shopping cart will also remain open. Feel free to order once you've read our detailed product page, and have become convinced of how much value this program will provide.