NLP Business Practitioner Course, Intensive format, Tampa FL, Summer 2017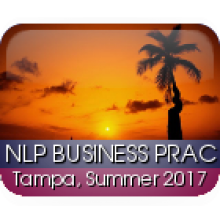 Join Jonathan Altfeld for this all-at-once NLP Business Practitioner certification course in Tampa, Florida in Summer 2017!  To sign up and pay the $400 Refundable Deposit initially, click the title above, or on the "Add to Cart" button.
Will be held near Tampa International airport in an extremely convenient location, close to restaurants, entertainment, shopping, attractions, and more.
For FAR more detailed info on this course, including course content, structure, and full tuition options, click here.
Register today with your refundable deposit.