The Metaphor Machine, MP3-Set Version (Not the shipped CDs version)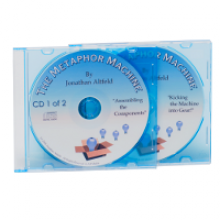 This is not the mail-order CD-set version. If you want the shippable CD version instead, click here.
The use of Metaphor is an essential knowledge/skill in your NLP toolkit, and indirect metaphor is a core piece of the Milton Model. 
For any changeworkers or coaches who want to take their use of metaphor way beyond the typical "isomorphic" metaphors involving 1-to-1 relationships between scenarios, The Metaphor Machine teaches you a straightforward easy-to-apply mental process for creating elegant, indirect, homo-morphic metaphor in the style of Milton Erickson & Richard Bandler. 
For more extensive, detailed information on this audio program, including audio samples, visit our Full Detailed Product Page for the Metaphor Machine Audio Program.  When you click on that link, another page will open, but this page in the shopping cart will also remain open.
Feel free to order through this page once you've read our detailed product page and you're convinced this product will be of immense value to you!