Finding Your Irresistible Voice 1, MP3-Set Version (Download/not-shipped)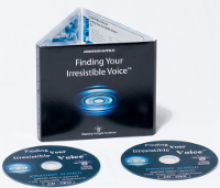 Note: this is the downloadable MP3 version. The shipped physical CD-set version is available here.
This MP3-set is designed to ramp up your vocal charisma, magnetism, and ability to communicate in a compelling way.  Enjoy 44 Exercise drills over 100 minutes of material, find out your strengths & weaknesses, and then repeat the drills that will take you furthest.  This is a must-have for ANYONE at any level of NLP or Hypnosis background -- it's designed to help literally everyone improve their game and get better results when communicating with other people, literally in any setting. Can't lose!
For more extensive, detailed information on this audio program, including audio samples, visit our Full Detailed Product Page for the Irresistible Voice CD-Set.
When you click on the above link, another page will open, but this page in the shopping cart will also remain open. Feel free to order through this page once you've read our detailed product page and you're convinced this product will be of immense value to you! - and remember,  THIS one is the download/MP3 version, not the shipped version.