Belief Craft (KE + SoM) 13+ hour mp3 Audio set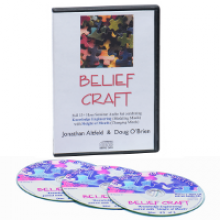 This audio set was recorded at the first 3 days of an extraordinary NLP Master Practitioner course with Jonathan Altfeld and Doug O'Brien in 2008.
Belief Craft masterfully blends Jonathan's "Knowledge Engineering" modeling material with Doug's approach to "Sleight of Mouth" language patterns for influentially changing minds. Combine a targeted system for modeling of beliefs, belief systems, strategies & values, with a targeted system for changing minds, and you have amongst the most advanced methods for 'reprogramming' people for more desireable results & behaviors, and for helping them discard unwanted baggage and restrictive mindsets.
For more extensive, detailed information on this 13+ hour audio program, visit our Full Detailed Product Page for the Belief Craft Home-Study Audio Program. When you click on the above link, another page will open, but this page in the shopping cart will also remain open. Feel free to order through this page once you've read our detailed product page and you're convinced this product will be of immense value to you!